Cellular Clarity
This chart shows the signal strength (the RSSI values recorded) for the cellular line over time. It also shows changes in cell tower ID, network and radio technology. The chart is only available for lines which have been set up as Cellular Clarity by an admin user.

Cellular Signal Strength description

For day view only, download the information to a CSV file (see sample CSV image below).


Vertical axis

Shows fixed values from -30 dBm to -120 dBm. The gradient on the right indicates "Excellent" values are green and near -30 whilst poor values show in red and are closer to -120. Hover on the chart to see exact values. Note: any values outside this range typically indicate no reading so these are mapped to -120.

Horizontal axis

Adjusts according to the selected time period to show hours in day view and days in week and month views; redraws if the time zone is changed at the top right of the Details page.

Highlight displays the average recorded value for each signal strength data point in the time period:
Day

Shows multiple data points per hour (one for each polling period, usually five minutes)

Week

Shows 24 data points per day (every hour), Average for each hour is shown along with Min/Max values if checked

Month

Shows 6 data points per day (every 4 hours), Average for each period is shown along with Min/Max values if checked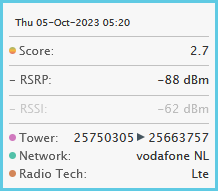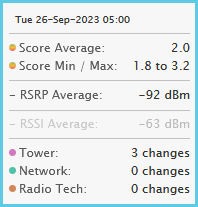 The settings below will be remembered when you next log in.
Whether the panel is collapsed or expanded

The status of all checkboxes