Wireless Access Point Details
This page describes the graphics available for WiFi on the AP Details page: Channel Load, Channel Trend, Client Count and Access Point Health.
For an introduction to WiFi monitoring in Highlight refer to the Status WiFi Monitoring page.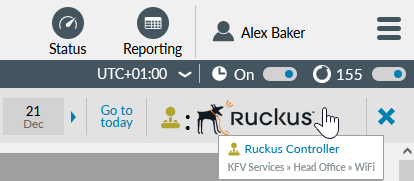 2.4 GHz (left) and 5 GHz (right) channel load charts show the utilisation of the WiFi channel (the percentage of time the channel is busy – either from other devices transmitting or interference). Each graph includes peak and mean values.
Zoom

Expand the graphic to a highly detailed view

2D

Show flat two-dimensional graphs [For Week or Month views only]

3D

Show three-dimensional graphs [For Week or Month views only]

By hour

In a new window, show utilisation levels in two hour time periods. This option is available on a day views only, not on week and month views.
For the selected day, this dialog shows more detailed view of both 2.4 GHz and 5 GHz channels. Each vertical line on the chart shows the actual utilisation for an individual poll.
View selected date/time
Set to 24h for the full day or centre the chart on an hour. For example, selecting 08 will set the chart from 07:00 to 09:00.
View now
This toggle will automatically move to Today and display a period covering the current hour and previous hour. This auto refreshes every 3 minutes. Switching the toggle off will return you to the initially selected date.
Aerohive, Aruba AirWave and Meraki: Channel load information is not returned by the vendor so these charts are disabled, see image below

Business hours

Show peaks / average for data collected during business hours. This will reset to default (All hours) when you next log in.

All hours

Show peaks / average on a 24 hour basis (i.e. including all samples) [Default]
Two trends are shown on the chart:
Load: 95PC

95th percentile level shown as a green bar. 95th percentile is a commonly-accepted normal maximum level which shows the peak load, after removing the busiest 5% of samples.

Load: Average

Average traffic level on the AP, shown as a blue bar overlaid on the green bar
For WiFi, each bar shows the maximum value AP utilisation of either 2.4 GHz or 5 GHz. For example, if the 2.4GHz average is 35% and the 5GHz average is 28%, the green bar will show 35%.
The trend chart uses the date and time period selected in the time bar at the top of the page and shows the previous 24 periods of the same length (day, week or month). So if you select Month and March 2017, the trend chart will start at March 2017 and show the previous 24 months (if Highlight has that much history for this watch).
Find out more about business hours and 95th percentile on the Traffic Trend page.
Aerohive, Aruba AirWave and Meraki: Channel trend information is not returned by the vendor so these charts are disabled, see image below
A graduated vertical bar is drawn on the chart every five minutes. The graduation makes it easy to see lightly and heavily loaded times. The custom defined threshold is indicated with a thin horizontal blue line. When client numbers are well below the threshold, the vertical bar shows cool (blue/green) colours. As client numbers approach or exceed the threshold, the top of the vertical bar turns to hot (orange/red) colours. The threshold value is 30 client devices by default but can be altered by Admin users. See WiFi Alerting Thresholds for more information.
A purple background on the chart indicates a maintenance window. APs in maintenance do not send alerts, change the colour of heat tiles nor decrement availability figures
Similar to Highlight's Line Health Chart, this shows:
CPU Util:

as a colour gradient with red indicating 70% load

Signal:

shows coloured blips based on the user-defined threshold. The blips change colour as the percent of clients with signal problems approaches 100%. A poor signal strength is defined as one or two bars or below 20 decibels. By default the threshold is 25% of all connected client devices but this can be custom defined. See WiFi Alerting Thresholds for more information.

Congestion:

represents the number of retransmitted or failed frames expressed as a percentage of frames to be sent. The calculation is manufacturer dependent and based on the statistics available from the WiFi devices. Congestion is not calculated unless traffic volumes are more than one frame per second. Colours on the graphics are:

| Congestion | Up to and including 2% | Up to and including 7% | Up to and including 12% | Up to and including 17% | Up to and including 22% | Greater than 22% |
| --- | --- | --- | --- | --- | --- | --- |
| Colour | Ignored | Blue | Green | Yellow | Orange | Red |

Availability:

shows coloured blips to indicate the following:

| Blip Colour | Issue |
| --- | --- |
| Blue | No data, controller is not contactable |
| Red | AP reported as Down |
| Deep Red | If the access point has been shut down deliberately on the wireless controller console: AP taken out of service |
| Turquoise | Either of the radio frequencies changed channel between polls |
WiFi vendors differ in what information they provide. Refer to this grid showing which WiFi features are provided by each supported vendor.