SD-WAN Meraki Configuration
Follow the five steps on this page to ensure your Meraki SD-WAN network integrates smoothly with Highlight. Each section has links to Meraki's own documentation.
This documentation was written for Cisco Meraki firmware version 15.29.
Other versions may show a different layout or slightly different options.
1. Creating a Meraki user account and generating an API key
Record the API key generated as you won't be able to retrieve it again (although an existing key can be easily revoked and a new key generated if required).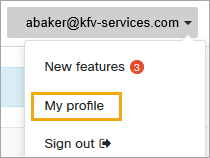 Highlight supports Meraki's MSP implementation for adding Meraki SD-WAN and WiFi devices into Highlight. Find out more about how a Meraki user can access multiple organisation areas.
We recommend you create a dedicated user in the Meraki dashboard with Read Only access to each customer Organisation you want to add into Highlight. Find out more about how to create users with the Read Only permission.
Once a user account has been created, you then need to generate an API key against that user. Click your username (email address) in the top right of the dashboard portal and click My profile.
---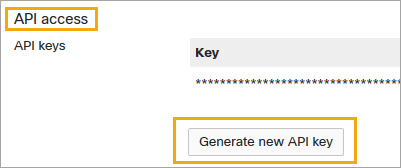 Once in My profile scroll down to the API access section, and click Generate new API key.
Find out more about generating API keys in Meraki.
2. Configuring a Meraki organisation for API access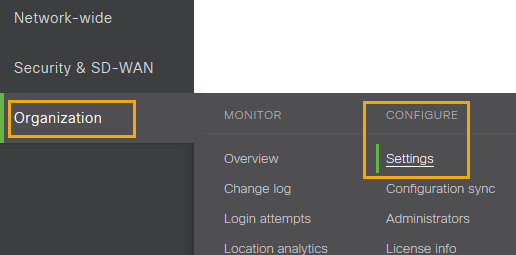 To enable Highlight to see a specific customer organisation using the API, that organisation must have API access enabled in the Meraki dashboard.
Once logged into the Meraki dashboard, select the Organisation you wish to add to Highlight, then go to the Organization > Configure > Settings screen.
---

Once there, scroll down to Dashboard API Access and check Enable access to the Cisco Meraki Dashboard API.
Click Save Changes.
Find out more about configuring a Meraki organisation for API access.
3. Configuring Meraki to enable polling of devices via SNMP

In the current implementation of Meraki SD-WAN, Highlight polls Meraki SD-WAN devices directly via SNMP to learn their stability, load and health status. To enable Highlight to do this, SNMP must be enabled on the device. This is done via the Network-wide settings.
Once in the Meraki Dashboard, select the network you wish to enable for Highlight polling. Go to Network-wide > Configure > General.
---

Once there, scroll down to the SNMP section and select Allow SNMP v3 access. You will need to specify a Username and Passphrase – it's not vital to keep these as Highlight will automatically read the SNMP authentication information from the API when enabled to start polling. Highlight advises using SNMPv3 as it's more secure, although we also support SNMP v2c.
Scroll to the end of the page and click Save Changes.
Notes on SNMP configuration
Meraki will allow a password shorter than 8 characters (which is against the SNMP v3 specification). Highlight will reject a short password, so use a password 8 characters or longer.
Enabling SNMP is under the Reporting section in some Meraki firmware versions and under the SNMP section in newer versions.
Highlight does not use the SNMP setting configured at the Organization level.
Entering IP addesses of Highlight agents in Meraki
---

Next, it's important to ensure that the IP address of the Highlight agent that will be polling the Meraki SD-WAN devices is granted access in the Meraki firewall.
Once you have selected the network you want to configure, go to Security & SD-WAN > Configure > Firewall.
---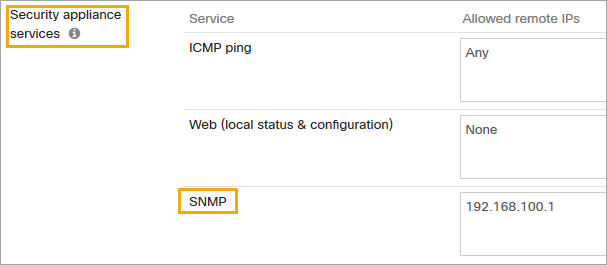 Scroll down to the Security appliance services section. Enter the IP addresses of the Highlight agents against SNMP using commas to separate multiple addresses.
Click Save Changes.
Find out more about Meraki's set-up for polling devices directly using SNMP.
4. Configuring Meraki uplink bandwidth speeds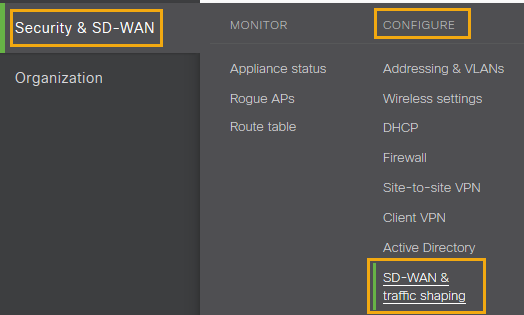 It's important to accurately configure a connectivity service's bandwidth in Highlight for traffic load graphs, alerting and reporting to function correctly. To make this easier for a Meraki based SD-WAN network, Highlight can use the API to read the Uplink bandwidth for each network and use that value to configure bandwidth in Highlight.
To set this value in Meraki, once you have selected the network you're interested in, go to Security & SD-WAN > Configure > SD-WAN & traffic shaping.
---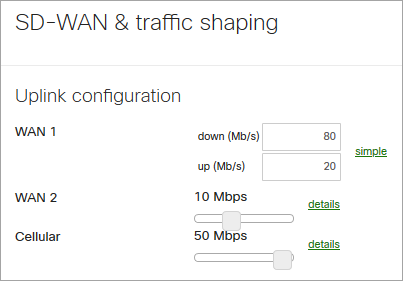 Once there, configure the Uplink WAN 1, WAN 2 and/or Cellular bandwidth.
Scroll to the end of the page and click Save Changes.
Find out more about setting bandwidth speeds in Meraki.
5. Applying network-wide configurations at scale
Meraki have various methods of applying clones of network-wide configurations for a large multi-site network, meaning the above configuration should only be needed on one network before its configuration can then be cloned to all others.
Find out more about cloning networks in Meraki.
Troubleshooting Meraki SD-WAN
Interface status (of up or down) may report incorrectly on MX67(C,W) and MX68(W,CW) appliances. The symptom seen in Highlight is that the device is contactable, but because the interface incorrectly reports as down, Highlight interprets this as an outage. A red blip is drawn on the Details page line health events chart and availability is decremented. To resolve, upgrade firmware on the Meraki device to version 15.13 or higher.
Find out more about incorrect reporting of ifOperStatus and Meraki firmware upgrades.