Release notes - April 2021
Release 21.4 includes the Beta version of the Cellular Clarity signal strength chart, enhancements to dormant watches and details of all alerts sent in our new Alert Log.

Compare the signal strength (the RSSI values recorded in dBm) for your cellular services against a custom threshold over time. See the minimum and maximum values for each period. Hover over each reading to see a timestamp and precise measurements. This chart is available for services which have been set up as Cellular Clarity by an admin user.
It's possible to initially set up this chart so it's only visible to service provider users.
Contact us to enable Cellular Clarity. Find out more about the Cellular Signal Strength chart.
Dormant watch enhancements
Dormant watches are typically used as backup options and are not normally expected to pass traffic. Dormant interfaces only send stability alerts if the device is uncontactable.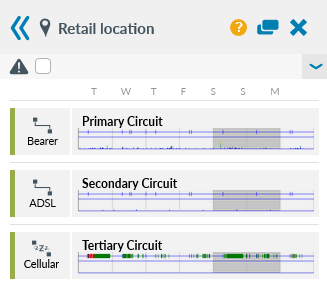 In 21.4, we've added indicators on the UI to quickly identify dormant watches. These show on:
strip charts
the watch Details page header
in Tech Info - on the interface
in Admin Browse
in the tree Search dialog

We also provide a load alert on dormant watches which are passing more than a minimal amount of traffic (more than 1000 Kbps by default). These alert emails include the Problem text: Dormant-Inbound-Traffic or Dormant-Outbound-Traffic
Find out more about marking a watch as dormant (see section 7) and the dormant threshold. Admin users or the Highlight support team can set bearer watches to dormant.

View details of all sent alerts in or beneath the folder/location selected in the Network Explorer tree. By default, alerts are shown for the current day. Alternate date ranges can be specified using the calendar controls to extend or narrow the results shown. Alerts are kept for approximately one year.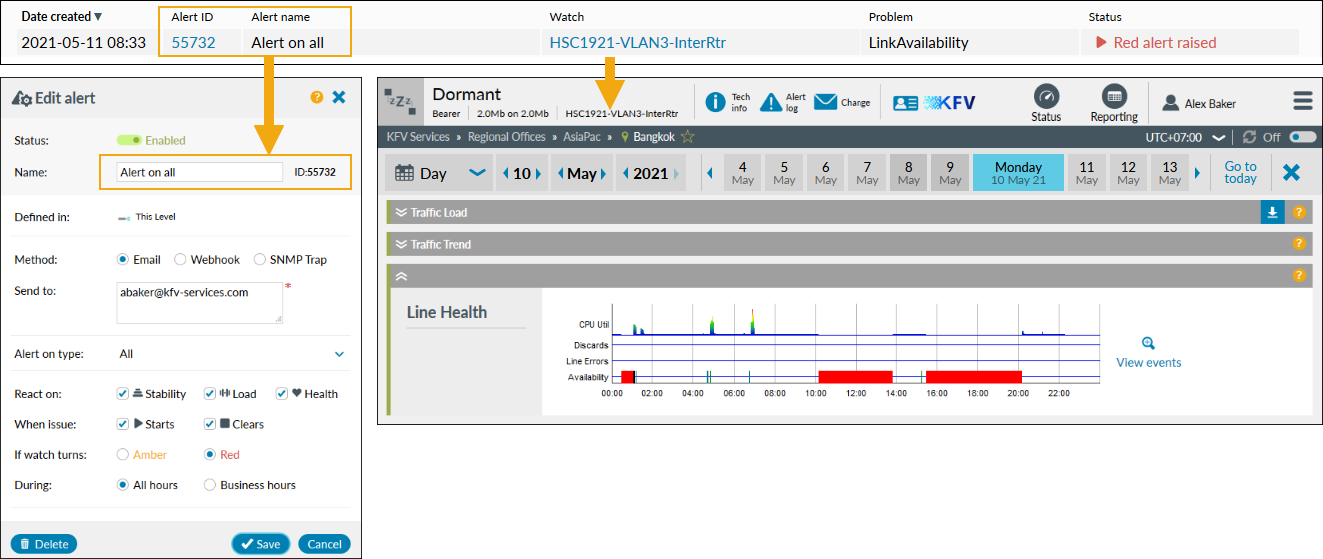 Find out more about the alert log.
Agent selection dialog improved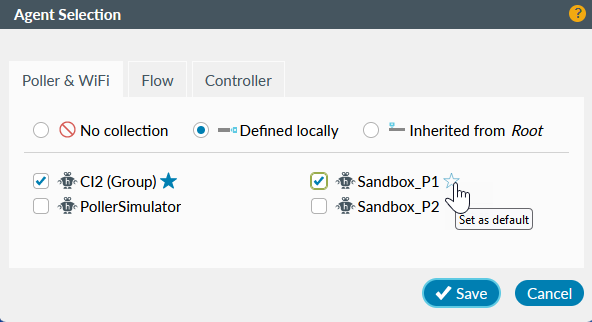 This dialog has been updated to show more agents in two columns. Find out more about agent selection.
Admin Watch Report: Fixed issue where disabled NBAR and NetFlow watches might appear in this report.
Highlight 21.4 has been tested on the following browsers:
Firefox

Version 87.0 & ESR (78.9.0)

Chrome

Version 89.0.4389.114

Edge

Version 89.0.774.75
Find out more about Highlight supported browsers.
More details on all of Highlight's features are available on the Help & Support Centre or contact us for assistance.