Release notes - February 2021
21.2 sees Highlight support another WiFi vendor, Ubiquiti, along with UI updates for strip charts
Ubiquiti WiFi now supported BETA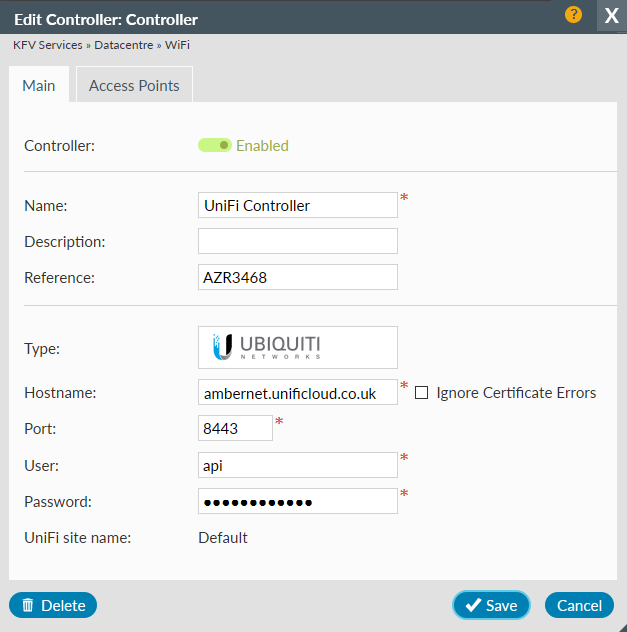 WiFi support now available for Ubiquiti UniFi devices in addition to Cisco, Aruba, Aerohive, Meraki and Ruckus. Please contact us if you would like to use this new feature.
Find out more about creating a Ubiquiti controller and the Details pages for APs and controllers.
Note: The Ubiquiti UniFi API is not an official vendor provided API. The API is documented by the community, as such support is offered only as a Beta.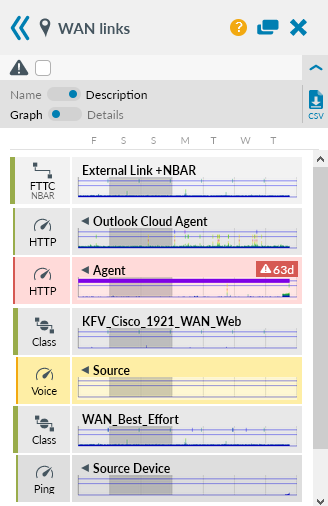 In this release, we make it easier to tell if performance tests are linked to a traffic class or VLAN and indicate that performance test results are shown on their parent Details page.
Improved hierarchy clarity
Performance tests now indent if they are beneath a subwatch, such as a traffic class. In the example above, the amber Voice performance test runs on the "WAN_Web" class and the green Ping performance test runs on the "WAN_Best_Effort" class. The red HTTP performance test is running on the parent FTTC bearer.
Vertical bar indicators for watch details page
All watch level strip charts now have a thicker vertical bar to indicate they have their own details page.
Strip chart line widths indicate:
green thick line

watch has its own Details page

green thin line

performance test showing on parent Details page, parent may be a bearer, VLAN or traffic class
The vertical bars and strip chart background change colour to amber or red to indicate an issue with the watch
Find out more about strip charts.
Scheduled Report emails: The date format in the subject of Scheduled Reports has been updated to avoid ambiguity. Previously "Week of 11/10/2020 (UTC)" now "Week of 10-Nov-2020". This change in data formatting applies to Day, Week, and Month reports.
Highlight 21.2 has been tested on the following browsers:
Firefox

Version 85.0 & ESR (78.7.0)

Chrome

Version 88.0.4324.104

Edge

Version 88.0.705.56
Find out more about Highlight supported browsers.
More details on all of Highlight's features are available on the Help & Support Centre or contact us for assistance.