Site Availability
Where resilient links are deployed at a site, it is possible to generate a site availability statistic in a report. Check the site link option on the Edit Watch dialog to mark a circuit as part of a resilient group for a location (each resilient link will need to be checked). You may also like to review our Hybrid WAN feature.

Once this is selected Highlight will generate an availability statistic based on the following logic:
All links with the site link option selected will contribute to the site availability statistic and only a failure of all site links at the same time will reduce the site availability figure. Any link at the site which is not marked as a Site Link has no influence on the site availability statistic.
The diagram below shows polls happening at three minute intervals. Red samples indicate a 'down' status for that link and green an 'up' status. In this example, you can see that only when both the top two links are down (red) simultaneously does the site availability figure also turn red. If either of the two site links remains up (green) then the site remains green. Ethernet is not marked as a Site Link (isSiteLink=NO) and thus has no impact on the site availability status.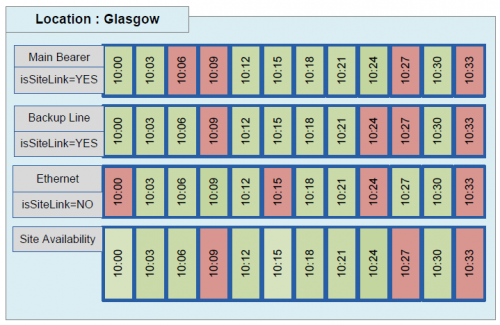 Site Availability can be seen on the Bearer Circuits reporting option as shown below. In this example, an individual link may have had reduced availability during the selected time frame but, due to the resilience offered by site links, the site as a whole remained 100% available. If the site link box is not checked, then Site Availability will show N/A as in the image below.

Site links also control alert suppression for bearer subwatches.