Troubleshooting AppVis™
There are a number of issues which may occur with AppVis.
Symptom 1. No Applications autodiscovery option
Check that your Service Provider is offering AppVis as a monitored service

It may be that AppVis needs enabling on the folder in question. Contact us to confirm if the option has been enabled.
Symptom 2. No AppVis tab displayed
This will be the same cause as Symptom 1
Symptom 3. No Applications have been discovered
No watch in the location/folder is configured with Discover Applications

40 minutes has not yet elapsed since enabling Discover Applications

The Flow configuration on the device is missing or incomplete

The AppVis settings in Highlight do not match the Flow settings on the device
Symptom 4. Fewer Applications have been discovered than expected
If an NBAR2 protocol pack is loaded then significantly more applications would be categorised compared with using standard NBAR.
However if the router does not have the necessary licence ("advipservices" or "data"; or "appxk9" for some IOS versions) then categorisation in the Flow packet reverts to using standard NBAR. Licence details are available from Reporting inventory
Symptom 5. DSCP name or Class name shows Undefined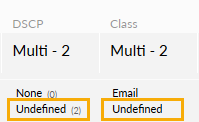 Flow records include the IP "Type of Service" setting for the Flow conversation, and Highlight extracts the DSCP value from this and maps it to the common DSCP name (e.g. 46=EF). Any value outside of this mapping will be shown as Undefined. Refer to your Service Provider for further clarification on how this is handled through the network.
The DSCP values are mapped to class names using the Highlight class information table (CCD) associated with folder. A DSCP value not listed in the CCD will be shown as Undefined. Refer to your Service Provider for further clarification on how this is handled through the network and to update the CCD if required.
Symptom 6. Discovered applications are displayed for an empty location
This is expected behaviour. The AppVis figures are summarised every day/week/month. Should a watch be moved or deleted within the time period being viewed the old AppVis figures remain associated with the original location of the watch.
Symptom 7. Fewer locations showing for an application than expected
The Flow collector is expecting a unique source IP address for every device sending Flow packets. Any Firewall in path that changes the source address will cause Flow packets to be dropped.
Symptom 8. Unexpected AppVis groups
If unexpected groups appear in your AppVis pages, check for an Audit Trail entry in your root folder for that group name. If absent it is likely that no folder has been set to be your Application domain. The solution is to
edit a folder, typically your root folder, and set as application domain
delete the groups not required using the edit button in the Status AppVis Groups drop-down
Does Flow need to be configured in Highlight for AppVis?
It is optional, not required. However Flow configuration is needed on the monitored device.
Can I change the Logo, Name or Category in AppVis?
Name and category are fixed by NBAR/NBAR2. Should you need the logo to be changed please contact us.
Why is the date amber?
The date is amber if it's been less than 36 hours since the application first appeared (for column "First Seen") or more than 90 days since it was "Last Seen".
Can I change my application domain?
It is possible but be aware that this will delete any customised application groups and group mappings. You may also see some unexpected groups appear - see Symptom 8