Troubleshooting location colour change
This page explores reasons for location colours.
Any/All behaviour for locations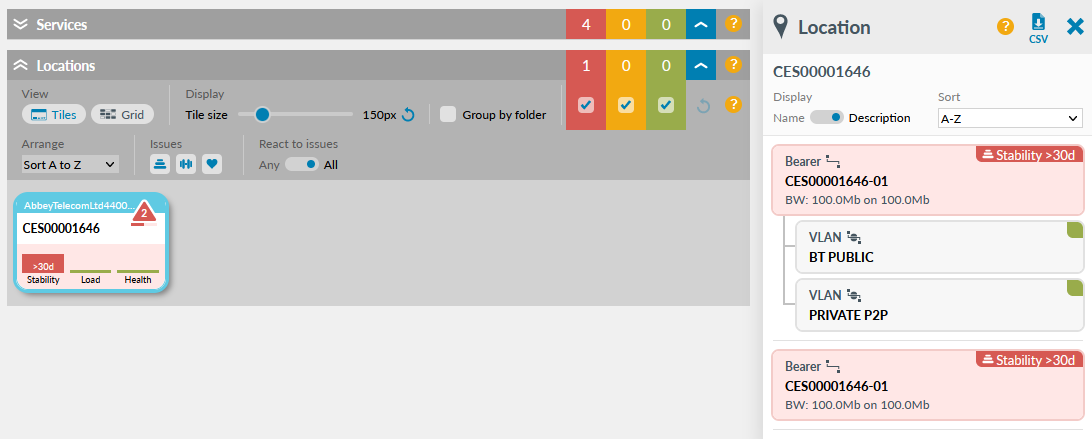 In this example, the two bearers in this location are down, displayed in red. The VLANs are no longer receiving data and are stuck in an artificially green state. Highlight will ignore the state of the sub- watches and show the whole site as red and down. The bearers are "major" watches which can override the state of "minor" watches if all are red in a location. A list of major and minor watches is shown in the table below.
The same logic applies to locations in the Grid.
| Major | Minor |
| --- | --- |
| SDSL (bearers) | Cellular |
| ADSL (including Broadband) | Switches |
| Dedicated access bearers | Performance tests |
| Tunnels | Classes |
| WAPs | VLANs |
| | MLEs |
Additional explanation
For any location or grid cell, take the worst colour of all watches in that location or cell, and if 'ALL' selected, restrict location or cell colour to amber only if there are any 'Major' watches that are green in that location or cell. The "worst of all watches" includes subwatches like performance tests and "restrict to amber" only works if there are extra watches of the 'Major' type that are green - not any other colour.
With ALL selected, the location or cell can only be red if all 'Major' watches in that location or cell are red.
Contact us for any queries with this functionality.
Status: red location - other causes
If a location and strip chart are amber or red with a stability issue, but information is still being accumulated once on the Details page, it is possible the watch is unreachable from one of the Highlight Pollers. Contact us to check if this is the case.