Troubleshooting NBAR
This page explains symptoms experienced with the NBAR charts
Symptom 1. NBAR monitoring showing mainly Unknown Protocols
Cisco Bug CSCty56850
Symptoms: NBAR analysis shows only unknown protocols or just ftp + http
See the Cisco Bug Search website for more details (Cisco log in required)
The fix is to change the IOS version to avoid this bug.
Known affected IOS versions
15.1(3)T1
15.1(4)M
15.1(4)M1
15.1(4)M2
15.1(4)M3
15.1(4)M4
15.1(4)M5
15.2(2)T
15.2(3)T1
15.2(3)T
This issue will present in Highlight in the following way: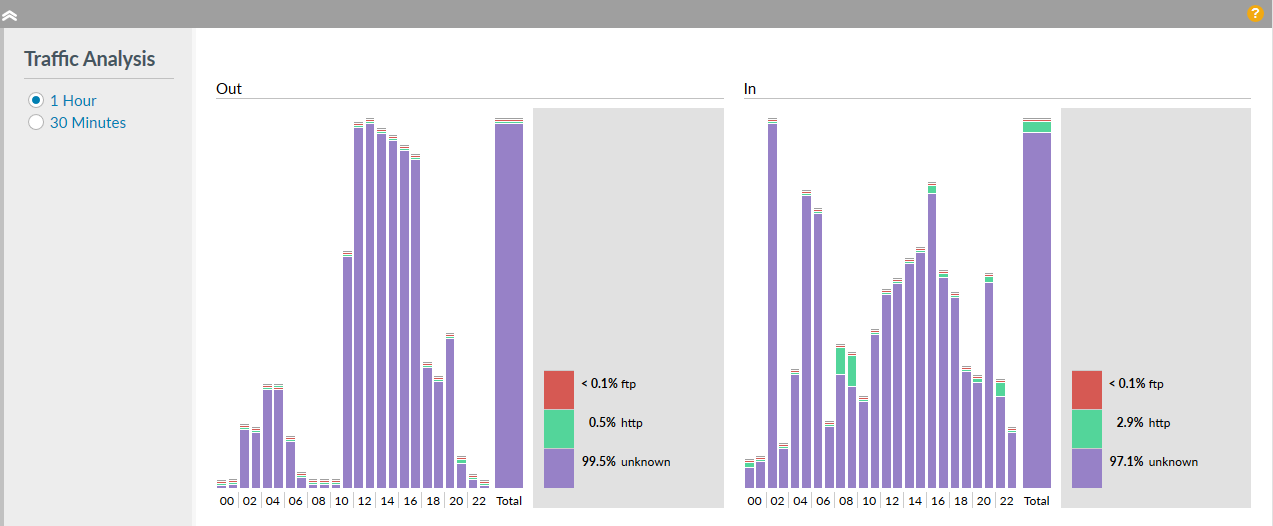 Symptom 2. NBAR not showing as configured
This is related to setting up NBAR in Highlight. When testing for the interface in the Applications tab for the bearer if no interfaces are shown as "NBar enabled", possible causes for this are:
The router must have a licence which supports NBAR. You will need the "advipservices" or "data" licence, or alternatively the "appxk9" licence.
Use show license to check. Licence details are also available from Reporting inventory
Some firewall or security feature sets, especially on smaller devices, may not support NBAR or the NBAR mib.
NBAR is not configured on the device
Symptom 3. NBAR configured in Highlight but no details displayed
A possible cause for this is:
The folder containing the device is set up with a Relay Agent, but the report is set to "Ignore proxy". The Highlight process to gather NBAR statistics does not use that setting currently. The workaround is to move the location containing the report to another folder which does not have a Relay defined.
Symptom 4. NBAR monitoring showing Inbound Only
A possible cause for this is:
The device being monitored has only one interface connected (e.g. a newly installed device) and traffic sourced from the router is not reported by NBAR.
Symptom 5. How to Identify Unknown Applications
Sometimes there will be applications which NBAR does not recognise. These applications will be labelled unknown in the display, but with appropriate configuration of the router better analysis can be achieved.